Lazesoft Recovery Suite, version 4.1 has been released! It has many new features, including the ability to install Windows 10 on your external USB disk. In addition, a Lazesoft BCD Doctor option and a Lazesoft boot disk start menu have been added.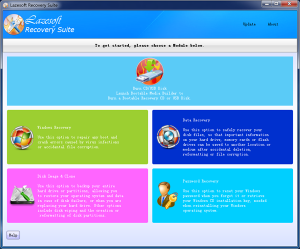 As you know, Windows 10 will be released this month. If you are still deciding whether to upgrade to the new version, Lazesoft can help. There are so many conflicting suggestions and articles about Windows 10, and, maybe you are one of the millions confused by the information overload.
We think that the best suggestion for you is safely and temporarily trying Windows 10 on a USB disk before you upgrade it on your internal hard disk. To help you out, our new version of the Lazesoft Recovery Suite has added a helpful new function, 'Install Windows 8/8.1/10 on USB disk', which can help you to decide if you really want to adopt the new Windows version.
"After installing Windows 10 on USB disk, you will have a portable and full functioning Windows 10 on your USB hard disk without any changes to your data, applications or settings for your internal hard disk" said by Rex Deamon, the Product Manager for the new and improved Lazesoft Recovery Suite.
The Lazesoft Team is always trying to provide solutions for protecting and repairing user's computers' data and boot system. The newest function in Lazesoft Recovery Suite v4.1, is the Lazesoft BCD Doctor, for managing and repairing the BCD store/file, an important and complex component of the Windows boot manager. The BCD file is vital for Windows Vista, 7, 8, 8.1 and 10 boot processes. Problems with the BCD file can cause Windows to become unbootable. Lazesoft BCD Doctor, in Lazesoft Recovery Suite, provides the Fix/Rebuild function capable of fixing any BCD file errors in one click, even if Windows does not boot normally or has crashed. Lazesoft BCD Doctor has many easy-to-use and helpful functions, such as, adding or deleting the BCD Menu, or editing the BCD Menu.
Lazesoft Recovery Suite is the premier all-in-one recovery package, offering many useful tools. These useful functions are found in different modules of Lazesoft Recovery Suite, including Data Recovery, Password Recovery as well as Disk Image & Clone. To help users to quickly access the useful tools on the Lazesoft boot disk, a Start Menu has been added to the v4.1 version. Using the Start Menu on the Lazesoft boot disk, users can quickly launch handy tools, such as File Manager, Registry Editor and Network Setting.
To decrease the backup drive image file size and improve backup speed, the new version of Lazesoft Recovery Suite excludes/does not process the pagefile.sys, hiberfil.sys or swapfile.sys files when backing up a system disk/volume to a file.
The new version v4.1 Lazesoft Recovery Suite supports recovering/finding the Windows 8/8.1 OEM product key from both the Windows registry files and BIOS. Users can recover or extract the Windows 8/8.1 OEM product key from BIOS, even if the Windows partition or disk is formatted or wiped.
In the new version of Lazesoft Recovery Suite, you will discover that many great features have been added and improved. The new features of Lazesoft Recovery Suite 4.1 include: