The Lazesoft Recovery Suite, version 4.0, is our first major revision for this year and we're looking forward to exciting things to come in 2015! First, we have made improvements in the appearance a functionality of our program, and fixed several small bugs. Beyond that, our product is more powerful and easier to use than ever.
Recovering data or repairing your operating system when Windows does not boot normally, or has crashed, is always a headache for Windows users, even for more experienced administrators, because a crash of the Windows system has many possible causes. Some hazards include; virus infections, sudden power loss, or an unexpected deletion of a partition. MBR or DBR failures can happen unexpectedly. System, boot, BCD or registry files can suddenly disappear or become corrupted. Sometimes users accidentally format a disk drive that contains important files or data.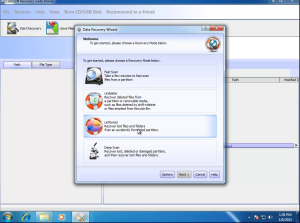 Different repair methods may be required for each reason for a computer crash. We at Lazesoft have helped many users to fix their computer's boot problems with many explanations. In our attempts to lead our clients in fixing their computer errors, we have frequently noticed that, sometimes, they have no idea of what might have gone wrong. We are trying to reduce the need for specialized computer training by adding the simplest possible options for repairing a computer.
Some users have tried to fix or rebuild their MBR, when, actually their BCD was corrupted. Some have tried to rebuild the boot sector on their boot partition, but we found that their real problem was the corrupted registry files.
We at Lazesoft decided to design our product so that users can fix many of their computer errors by clicking just one button. Now, they can repair a variety of problems without needing to know about which function or button should be used. We think that will be welcome news for users at all levels of expertise.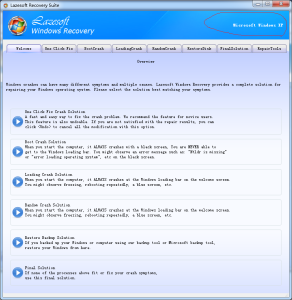 In this new version, we added a new major and important feature, One Click Repair, to the Windows Recovery module of Lazesoft Recovery Suite. This feature allows users to click the new <One Fix Repair> button to fix most common boot problems, and it is available now.
Users at all levels of computer experience, from beginner to expert, will find the new option especially valuable, because it is totally reversible. All operations performed by this function can be cancelled and undone, if necessary. Not only does a user not need to understand the reason for many computer breakdowns or know the complicated steps to solve problems, files that have been deleted because of accidents or the effects of malware can be restored automatically with our new program version.
Accidentally formatted data partitions are one of the most common reasons for data loss. If this happens, a user can recover the 'lost' files or data with the least computer training and effort. We have redesigned and streamlined the Lazesoft data recovery wizard, especially the 'Undelete' and 'Unformat' functions. Enhanced options can help new users to recover their data more quickly and easily. Not only that, we have added new data backup and recovery sessions to the program options.
One if the most important improvements in the new Lazesoft Recovery Suite is its ability to back up or clone a user's operating system, partitions OR entire disk from within the Windows desktop, as well as in boot disk mode. Because backing up and cloning system volume/disk are often daily operations. The new version of Lazesoft Recovery Suite can back up or clone system volume/disk on a running Windows desktop, with no rebooting of the computer needed.
You can rely on the people at Lazesoft to work hard to make our Lazesoft Recovery Suite as streamlined and efficient as possible!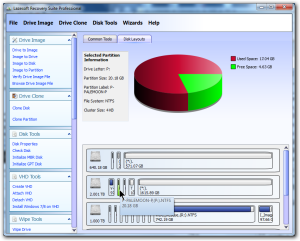 In the new version of Lazesoft Recovery Suite, many features have been added and improved. The following are the new features of Lazesoft Recovery Suite 4.0:
One Button Click to Repair the crashed Windows system
To Clone the system disk of the running Windows
To Back up the system disk of the running Windows
To Rebuild/Repair the Boot Menu
To Rebuild/Repair the BCD file
To Rebuild/Repair the Boot.ini file
Disk wiping
Viewing Partition Properties
Viewing Disk Layout in Map
To Back up Data Recovery Session
To Restore Data Recovery Session
Enhanced Undelete data recovery
Enhanced Unformat data recovery
Enhanced guides for resetting Windows Live ID user account password
To Back up the MBR(Master Boot Record)
To Restore the MBR(Master Boot Record)
To Back up the Boot Sector of the system volume
To Restore the Boot Sector of the system volume
To Check file system errors and disk failures of partitions
To Check the bad sectors of disks
To Rebuild the MBR(Master Boot Record)
To Rebuild the Boot Sector of the system volume
To Build Bootable USB Hard Disk
To Detach VHD disk
Minor bug fixes